I haven't been able to post much between needing a new router (we had no internet), having no usb cord to upload pictures.....and taking naps with Ethan instead of posting lol.
We're moving on the 15th! The place is AMAZING! It's huuuuuuge compared to this place, 3 bedrooms (1 downstairs though which sucks), townhouse style, a FULL SIZE dishwasher, it's just awesome. We couldn't be more excited!
I created a prototype for a White Chocolate Dipped Strawberry drizzled with Strawberry Cream that I'll be selling in my Etsy shop, but it's not exactly perfect. I don't like the wave in the white chocolate (I thought I would) and there needs to be more area that's dipped. But here is a picture!
The "One Tiny Sea Creature" Swap from Craftster is also complete, so I can post pictures. I crochet "Willy the Whale" pattern from
Shop With Denise
. The pattern didn't include any information on yarn size or hook size...so it took me 2 attempts to get the whale down to a smallish size! I normally use a G hook, but it's still bigger then I wanted. I wish I knew what size hook she used to get that cute little whale. I also crafted a starfish out of felt, fishermans netting and embroidery pearls.....and eh it didn't turn out how I wanted. I was kind of rushed and I couldn't get the starfish to glue together all the way...but it's close!
I was super spoiled by my partner, Rippledwater! She painted a box with my username on it, and inside is a sculpy octopus with stitch markers of my favorite sea creatures! It's amazing and I love it :)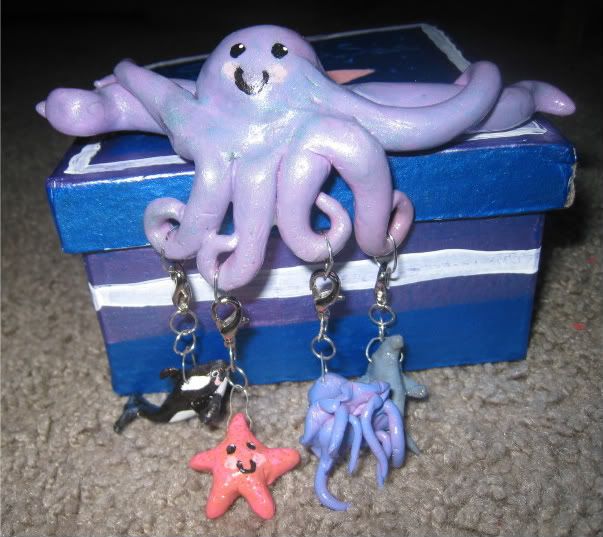 This is totally random but here is a great iced coffee recipe:
- 1 tsp instant coffee
- 6oz warm water
- 1 tbs vanilla pudding mix
- 1/2 cup milk
- 1 tsp sugar
Mix the instant coffee with warm water, then add pudding mix and stir. Add the milk and sugar with some ice and drink up! It's so good, no need for me to run to Starbucks now when I need ice coffee!